Fine dining on the doorstep
Posted: 30th June 2016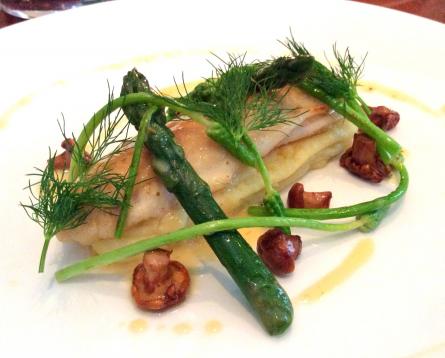 Beautiful South's Henry Ascoli experiences fine dining at Southsea's Restaurant 27, where chef patron Kevin Bingham creates a delicate blend of classic gastronomic cuisine with modern flavours…
From the moment you set foot inside Restaurant 27, the energy and passion of Kevin and his team radiates around the room. The elegant décor, welcoming and attentive service and relaxed atmosphere immediately set the tone for the evening, as we settle in the lounge area to pore over the delectable menus.
A selection of beautifully-presented canapes soon arrive at the table, among them Kevin's signature mackerel mousse and lemon in a light and fluffy pastry.
The stunning diversity of flavours and textures throughout both the spring and tasting menus ensure each dish makes an impression, but eventually we select the spring menu.
Ahead of the starters, we enjoy carrot velouté and orange hollandaise – a delicate balance between sweet and tangy, with a smooth and creamy texture.
Homemade poppy seed and fennel loaves arrive at the table moments before our starter is served, allowing us the opportunity to break the warm bread apart and enjoy its aroma.
To begin, I opt for the smoked var salmon with avocado, lemon and caviar – a stunning dish in every sense: presentation, texture and taste. The salmon's powerful smoky notes provide a stark contrast to the smooth, fresh avocado, while the rich and slightly sweet caviar melts in the mouth.
Across the table, my partner is equally impressed with the maple glazed ham hock, pea velouté and quail egg, remarking on the tenderness of the meat, the rich and flavoursome velouté and, again, the fine presentation of the dish.
For the main event, it is the flavours of the sea which once again tempt me, as I opt for lemon sole with asparagus and girolles, drizzled with an apple butter sauce with fennel pollen. A beautifully-balanced dish, the flaky fish falls from the fork, while the intense, savoury flavour of the asparagus, the earthiness of the girolles and the sweet apple work wonders.
Meanwhile, over the table, the 30-hour belly of pork lived up to its billing as a house favourite, my partner commenting on the deep flavours of the meat, the smooth, creamy mash, and the sweet touch of the miso glaze. Another highly creative dish, lending a fresh touch to an old favourite.
After settling back in our seats and cleansing the palate, we settle over our choices of sweet. As one of my guilty pleasures, dark chocolate proves simply too tempting to resist. The rich chocolate mousse and malted orange honeycomb prove truly indulgent, but it is the contrast in textures which makes the biggest impression.
My partner's choice – vanilla custard with fresh, freeze-dried raspberries and poppy seeds – delivers sweet vanilla, melt-in-the-mouth shortbread and sharp berries, its vibrant colours and wealth of flavours a sheer delight.
Through a finely-crafted menu, first-class service and showing to attention to detail in every aspect of the restaurant, Restaurant 27 delivers a truly unique dining experience, standing out from the crowd in the heart of Southsea.
Fine dining on the doorstep.
Restaurant 27 is open for dinner from Wednesday – Saturday (6.30pm to 9.30pm), and Sunday lunch (midday to 2.30pm). Call 023 9287 6272 or visit www.restaurant27.com
Restaurant 27, 27A South Parade, Southsea, Hampshire PO5 2JF