REVIEW: Turn of the Screw, Portsmouth
Posted: 5th April 2018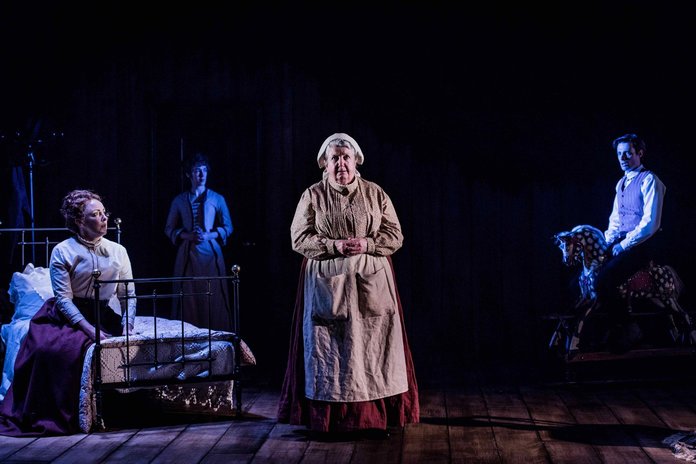 Henry James' Turn of the Screw labelled 'the classic ghost story' was a hit with the audience at the New Theatre Royal, Portsmouth, earlier this week.
There was a strong sense of eeriness in the auditorium as the audience waited for the performance to commence.
Based in 1940, a young governess accepts the responsibility of looking after two orphaned children in Bly, at an idyllic country house.
Soon after her arrival, she discovers they are not alone. The ghosts of Bly's troubled and concerning past haunt the estate and The Governess risks everything to keep the children safe.
Later, confronted by the past she is compelled to revisit the terrifying events at Bly and account for what actually happened to her and the innocents under her protection.
As the audience journey through the storyline with the characters they are continually absorbed into the determination to understand what really happened at the Bly household.
The characters excellently change from one persona to another to clearly highlight earlier events and the present day. The transitioning of the lighting and the way in which characters carried themselves was a clear indicator of a change in time.
For example, the New Theatre Royal witness Anabel Smith (Mrs Conray) as a firm and determined character who is seeking details. But when she is performing as a child her body language and utterance change.
Sound and lighting superbly create an atmosphere in which the director, Daniel Buckroyd, desires to perceive. Even the interval is introduced with a blackened stage and sudden flash of light in the auditorium, along with a deafening noise. Excellent.
Each actor did an excellent job at portraying their characters. Carli Norris (The Governess) carried her performance with confidence and has a strong connection with her audience.
The show itself was delivered by a four-person cast; Carli Norris as The Governess, Annabel Smith as Mrs Conray, Maggie Mccarthy as Mrs Grose and Michael Hanratty as The Man.
Turn of the Screw has been interpreted or adapted many times and provided rich inspiration for The Woman in Black (written in 1983). Accommodating Henry James' much overlooked prologue this new Turn of the Screw is faithful to the original "casting new light on its ambiguities".