Holiday Inn Winchester launches multi-million pound refurbishment
Posted: 17th October 2018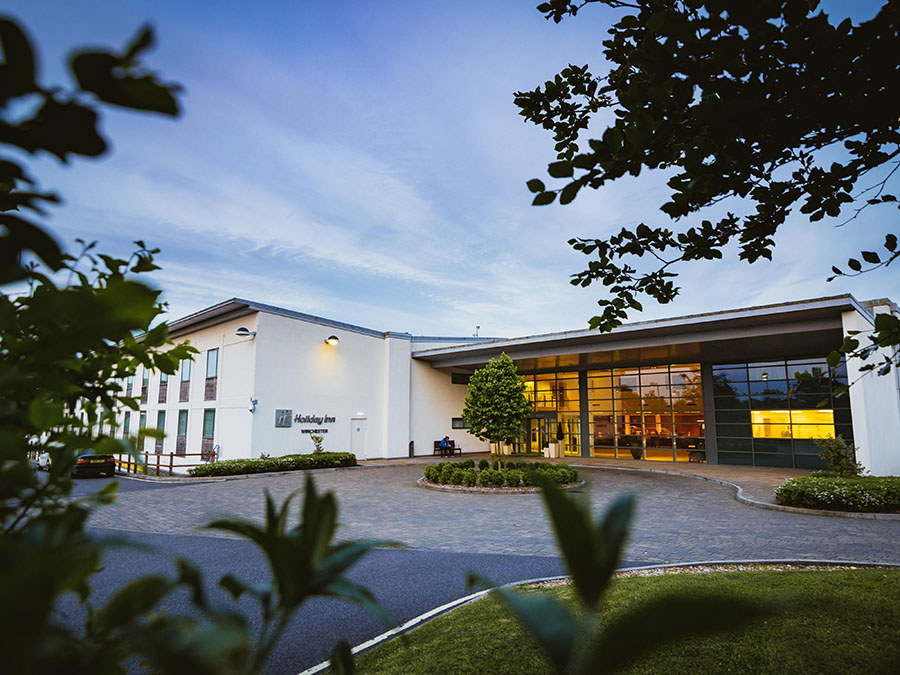 Built just eight years ago along sustainable lines, the four star Holiday Inn Winchester, is planning a complete transformation of its internal public areas, and the creation of a new luxury Spa, with the project costing over £2 million.
The redevelopment will provide a new 'open lobby' to the upper ground floor, which will feature a new restaurant with outside dining. An elegant long and curved bar will also be located on the upper ground floor next to the restaurant and will also serve the large lounge area, that is so popular with business visitors for casual meetings and there will also be a "To Go" café. A special workplace will be also be available in the lounge area, and for those who want to be entertained there will be a media/fun relaxing area.
The refurbishment will begin in January 2019 and will be completed in a number of smaller phases that will enable the hotel to continue to provide its existing facilities of restaurant, bar, reception and lounge areas until the upper ground floor transformation is completed in April 2019, this will be followed by the creation of a new Spa on the lower ground floor level that will be completed in July 2019. The Spa will also have a private screened outdoor terrace with a relaxing hot tub. Luxurious treatment rooms will offer peaceful spaces for visitors to be pampered and there will be a gym and studio.
BUSINESS AS USUAL
Marc Solarz, the hotel's General Manager commented: "It will still be business as usual at the hotel during the refurbishment, as our architects and designers have carefully planned a phased approach to the transformation, so we can still offer hotel guests and visitors the same facilities. Every aspect of the project has been carefully planned in specific phases, with areas screened and sound proofed to avoid disturbance to residents and visitors."
"Although the hotel didn't look as though it was in need of refurbishment, the owners decided that after eight years it needed a to be refreshed and updated," continued Marc Solarz. "The existing reception lounge is already very spacious, and we felt that the area wasn't used effectively, especially with our restaurant located on the lower ground floor. So by bringing the restaurant up to this extended upper ground floor level, it will be more visible and convenient for residents and also for visitors to the hotel."
"The open lobby has very specific zones for the restaurant, bar, lounge areas, with a semi-open plan look and feel, that will provide more of a flow from one area to the other and will create a more vibrant atmosphere, especially with a new open kitchen to the restaurant. Our head chef Chris Keel and his team are really looking forward to being able to connect more with our visitors and to the creating new menus from all the great local produce we use."
"We are all very excited about this new redevelopment of the hotel," commented Sarah Waddington, Sales and Marketing Manager for the hotel. "The new look, layout and Spa will help to attract a much broader market to the hotel as there are very few facilities like this in the area."
"We are all loving the proposed interior design for the different areas, which incorporate lots of warm, rich and vibrant colours that reflect the South Downs landscape," continued Sarah Waddington. "There are some very imaginative ways that the designers have used many interesting materials in every new space. The overall look will be contemporary combined with some modern traditional aspects and it will be comfortable and inviting."