The Taming of the Shrew - Titchfield Festival Theatre
Posted: 16th July 2019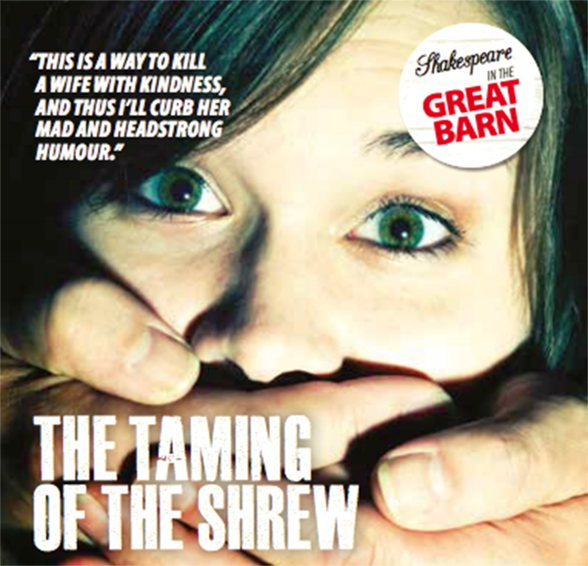 "This is a way to kill a wife with kindness, And thus I'll curb her mad and headstrong humour."
The Taming of the Shrew is one of Shakespeare's earliest and darkest comedies – and is arguably one of his most controversial. This July and August, Titchfield Festival Theatre will stage this production in the historic Great Barn as the popular Bard at the Barn summer season continues.
Kate is difficult, argumentative, and 'unmarryable' at least in part because her father prefers her younger sister, Bianca. Petruchio, being up for a challenge and in order to win her dowry, decides to tame her. However, Kate is also witty, independent and bold, providing a storyline that centres on the battle of wills between her and Petruchio.
Given a choice between the beautiful willing wife, and helping out your best friend by marrying the nagging one with a sting in her tale, who just happens to be worth lots and lots of money, Petruchio would surely want to help his friend out. How bad can she be? And if she really is that bad, can he tame his obnoxious, hot-tempered but intelligent and witty wife?
Although the story focuses on the issues of gender and control, money and class in Elizabethan society, there is plenty of silliness, disguise, some drunkenness and the obligatory clown in Grumio to make this a Shakespearian play that all will enjoy and appreciate.
Emma Bevan, who directed Much Ado About Nothing at the Great Barn last year, said: "There is a nice modern twist to the beginning and then we are straight into a traditional Elizabethan setting for the main play. It is a physical comedy, with lots of great humour and fun throughout the play. I've tried to portray an easy to understand production for those less used to Shakespeare. We have included lots of physical clues and demonstrated Shakespeare's meaning in some imaginative ways where his language and expressions may seem old fashioned to us now."
The £100,000 renovations to the historic Great Barn are now complete with a new, traditional Shakespearian stage and oak hayloft. Shakespeare spent time living and working in Titchfield - including the building itself. It is therefore the perfect place to enjoy an early picnic tea and a Shakespeare T to round it off.
The Taming of the Shrew opens on Tuesday 30th July with performances continuing until Thursday 8th August. The Sunday matinee is on 4th August and starts at 2.30pm.
For more information, please go to http://titchfieldfestivaltheatre.com/or contact our Box Office on 01329 556156.