Two Wildlife Trust projects shortlisted for Countryside Awards
Posted: 19th August 2019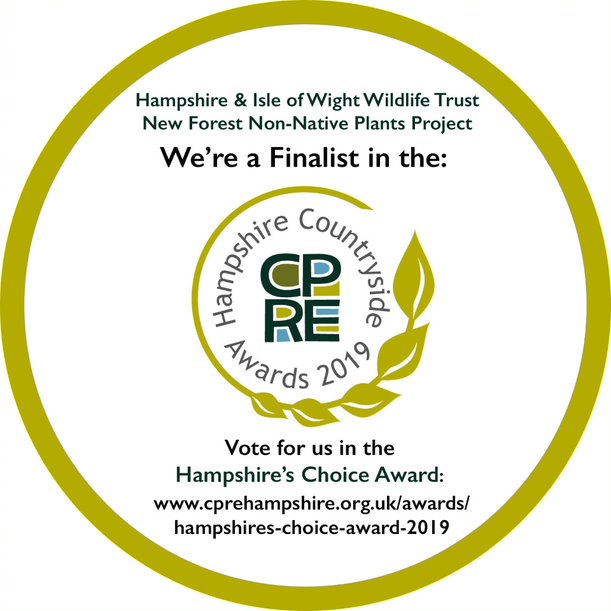 Two Wildlife Trust projects shortlisted for Countryside Awards
Hampshire & Isle of Wight Wildlife Trust is delighted to announce that our Woodland Apprentice scheme and New Forest Non-Native Plants Project are both finalists in CPRE (Campaign to Protect Rural England) Hampshire's 13th annual Countryside Awards.
The awards recognise schemes which celebrate a beautiful, diverse and living countryside that everyone can value and enjoy. There are four award categories and each is designed to showcase key aspects of countryside life: Community and Voluntary, Rural Enterprise, Making Places and Young People. The winners will be announced on Tuesday 17 September 2019.
In the meantime, all finalists in the CPRE Hampshire Countryside Awards 2019 are competing for the Hampshire's Choice Award and the winner will receive £500 towards the work of their project. Voting is open from Monday 12 August and closes on Saturday 7 September 2019.
To vote, please follow this link to the CPRE website: www.cprehampshire.org.uk/awards/hampshires-choice-award-2019
Woodland Apprentices
The Woodland Apprentice scheme is a finalist in the Young People category, sponsored by Forest Holidays.
As part of the Down to the Coast partnership, supported by The National Lottery Heritage Fund, we're training the next generation of conservationists to care for our woodlands, giving young people the opportunity to gain practical experience and qualifications.
Jamie Marsh, Reserves Manager for Hampshire & Isle of Wight Wildlife Trust, said:
"Looking after our woodlands is an increasingly rare skill – and one that's never been needed more. Thanks to the support of The National Lottery Heritage Fund, we've been able to offer vital training opportunities to young people interested in a career in conservation – while restoring some incredibly important wildlife-rich woodland in the East Wight."
As well as helping to manage some of our nature reserves, such as Martin's Wood and Eaglehead Copse, the apprentices have worked on a number of other woodlands on the Island. In total they aim to restore at least ten woodlands across the East Wight, which will contribute towards a connected network of woodland habitat for vulnerable species.
New Forest Non-Native Plants Project
The New Forest Non-Native Plants Project is a finalist in the Community & Voluntary category, sponsored by Southern Co-op.
We are working in partnership with volunteers and local communities to stop the spread of invasive non-native plants such as Himalayan balsam which threaten the special wildlife of the New Forest, particularly along watercourses and in wetland habitats.
Catherine Chatters, New Forest Non-Native Plants Officer, said:
"Our wonderful volunteers play a vital role in helping to control these vigorous invaders, generously giving their time to work cheerfully in all weathers, often in very muddy conditions. They deserve to receive recognition for their dedication, determination and hard work so please vote for the New Forest Non-Native Plants Project in the Hampshire's Choice Award".