Rowans Hospice is looking for people to take an epic leap!
Posted: 4th March 2020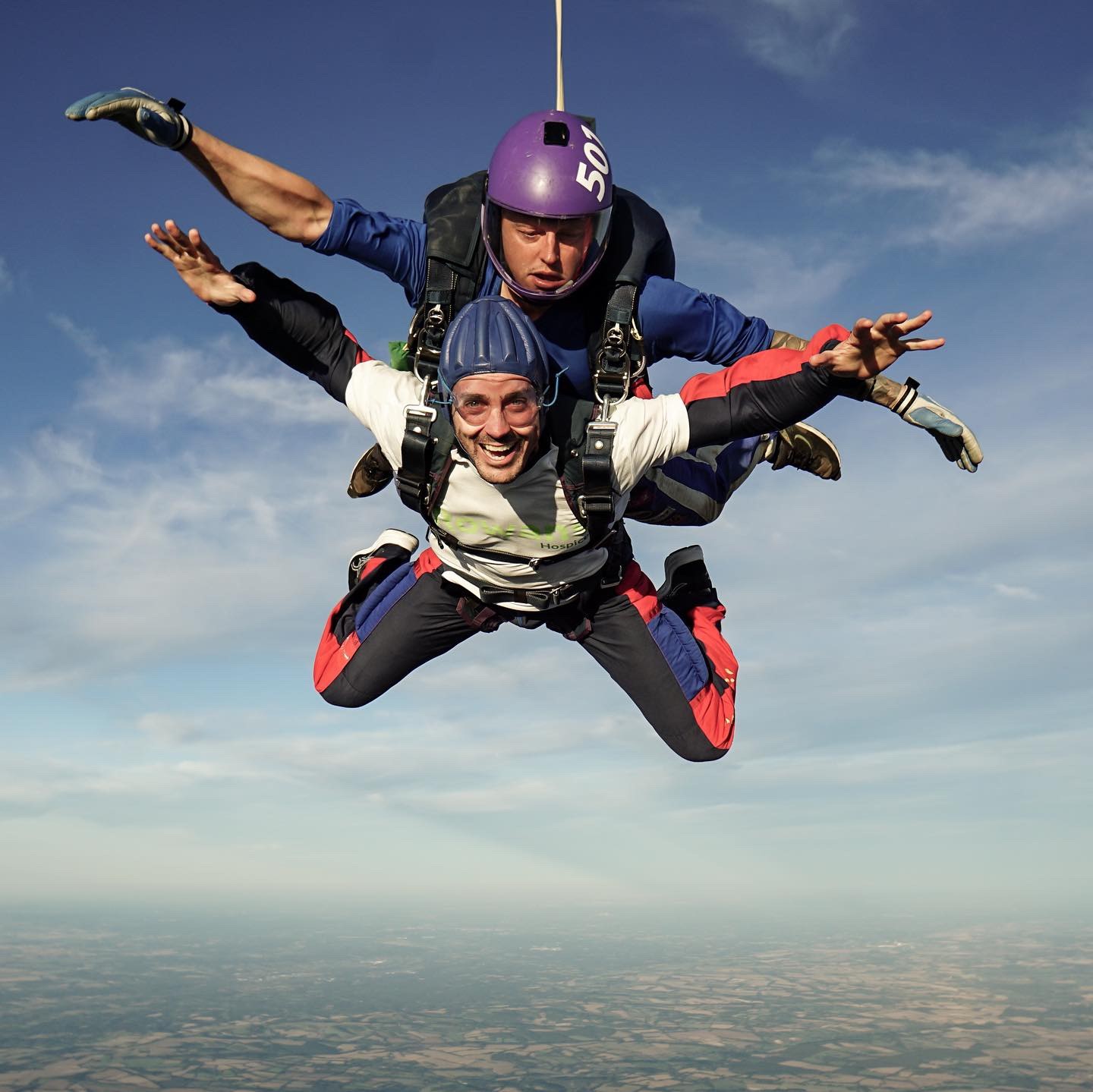 ROWANS HOSPICE IS LOOKING FOR PEOPLE TO TAKE AN EPIC LEAP
Rowans Hospice Charity is looking for thrill-seeking daredevils to make an epic leap with a tandem skydive.
The local Charity has just 10 places on four dates across the year: 29 March, 17 May, 25 July and 12 September. To secure your place on one of the planes, register your interest today at www.rowanshospice/skydive.
The Skydive, which takes place at Netheravon Airfield near Salisbury, is a truly breath-taking 2.5-mile parachute jump in tandem with an instructor. Imagine flying at 13,000ft full of anticipation; sitting at the edge of an open doorway, the engines rumbling and the wind whistling through your ears. Simply let go and fly. Experience the 45-second freefall reaching 120mph, then, as your parachute opens, float back down over the stunning Salisbury landscape to the dropzone, absolutely glowing with adrenaline.
Last year, Kev Bradshaw, Creative Learning Specialist at HSDC South Downs College, took on the challenge. Describing the experience Kev said: "It was a phenomenal feeling. You feel like you are falling only for a moment, before enjoying the sensation of floating. Then when the parachute canopy opens it feels just like you are flying. It really was the most amazing experience, I will definitely repeat it."
Commenting further, Kev added: "The Skydive for the Rowans Hospice Charity gave me the most memorable experience, whilst also raising money to make sure another family like mine will have support from this incredible charity."
Alexis Trowbridge, Fundraising and Events Officer at the Rowans Hospice said: "We can't wait to hear from other local heroes like Kev, willing to take on this challenge to support the running of the Hospice. If you are looking for an adrenaline-fuelled challenge or perhaps want to do something different to celebrate a milestone birthday, make that epic leap and register your interest today at www.rowanshospice.co.uk/skydive or give me a call on 023 9223 8533."
Please note, there is a £50 deposit at point of registration and participants must be at least 16 years old. For further information about the tandem skydive visit www.rowanshospice.co.uk/skydive, email fundraising@rowanshospice.co.uk or call 023 9223 8533