He shaved the faces of gentlemen, who were never thereafter heard of again.
Posted: 3rd September 2020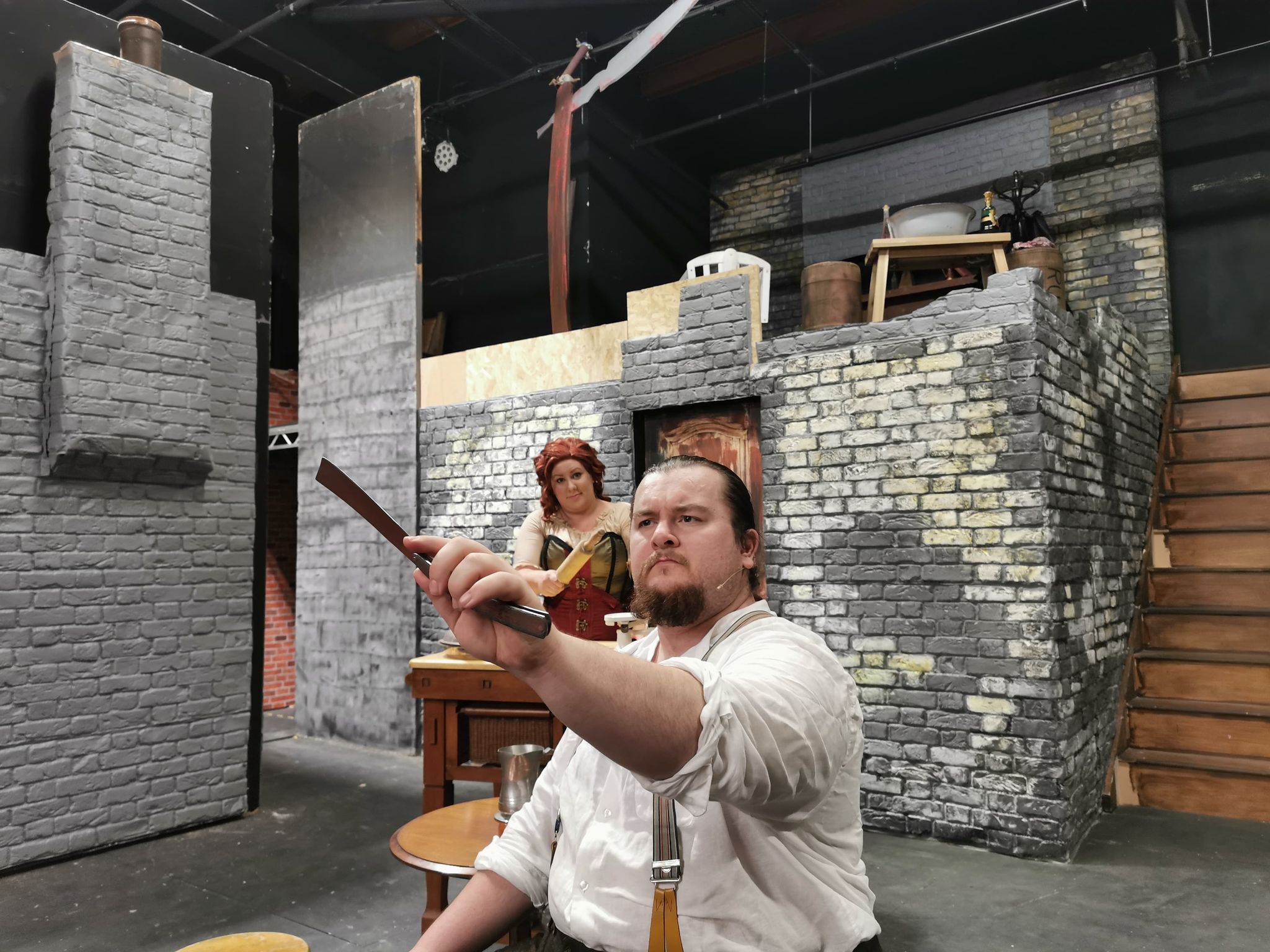 How can you find creative ways of killing someone without being too close? That has been the challenge of the cast and directors of Sondheim's celebrated musical Sweeney Todd, which opens next week, with Titchfield Festival Theatre's Artistic Director Kevin Fraser promising a new "post Covid" style of theatre.
Kevin Fraser said, "Sweeney Todd is our first production at the main theatre in St Margaret's Lane since March and all of our team have been extremely busy putting in place the necessary arrangements to ensure safe distancing throughout the building, including sanitising the theatre thoroughly after each performance.
"However, it is not just the backstage team that has had to think creatively in this new world we live in. The directors, producers and cast have worked hard too, constantly thinking about how to change the fight scenes for example, and the interaction between the actors to ensure that there is safe distancing at all times. Of course, Sweeney Todd is a particularly sinister and gruesome tale set in the dark streets of Victorian London, so we have had to find unique ways of disposing of all the bodies!"
Sweeney Todd's story is one that encapsulates excitement, romance, revenge and humour through a beautifully rich, challenging and humorous score and script. Hugh Wheeler's script has focused the charm and wit of each spoken scene to that of a laser beam.
The team directing the Titchfield production is Sassy Harvey, Daniel Brown and Elliott Fendle, with Sassy and Daniel making their directorial debuts; Elliott having directed Avenue Q last year. Sassy said, "We are so looking forward to performing in the theatre again – and Kevin and the team have been great, dedicated to finding ways that ensure the safety of patrons, the cast and crew.
"The requirements relating to social distancing and singing have required us to adopt a more refined chorus. Therefore, the large chorus ensemble has been condensed down to a fiery, ferocious and fierce trio of 'Fates' throughout the majority of ensemble numbers.
"As well as making alterations to the singing, the majority of the blood and gore is suggested, implied and technically executed to remove the overt horror and to remain socially distanced as a cast. Although I promise the audience that there will still be plenty of blood!"
Sweeney Todd will be performed between Wednesday 9th – Saturday 19th September at 7.30pm (matinée performances on Saturday 12th and Sunday 13th at 2.30pm) in the Oak Theatre, Titchfield Festival Theatre, St Margarets Lane, Titchfield PO14 4BG .
For more information including booking tickets and details of the live streamed performances, please go to http://titchfieldfestivaltheatre.com/or contact our Box Office on 0333 666 3366.